Regular price
$78.95 USD
Sale price
$43.97 USD
Unit price
per
Sale
Sold out
Snoring impacting your quality of life, there's a solution.
The Silent Night™ automatically detects snoring and activates rhythmic pulses which stimulates muscles, limiting snoring. It's so comfortable you won't even notice it, a small and effective way to limit snoring. Wake up feeling refreshed and rested every morning, ready to take on the day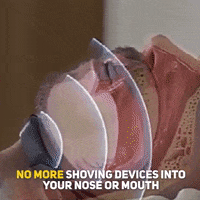 Non Invasive and painless, say goodbye to shoving devices into your nose or mouth. Silent Night provides a better, more restful nights sleep for you and your partner.
Improve sleep quality, Silent Night limits snoring at the source by stimulating your muscles improving air flow, ensuring a restful sleep. And no more elbows in the middle of the night!
Customizable, you have complete control over individual settings. Choose the level that manages your symptoms and gets you on top of excessive snoring.
EMS Technology automatically detects snoring and subtly adjusts your  sleeping position improving airflow to provide a better nights sleep.
Did you know you are at risk! Diabetes, Heart attack, Hypertension, Obesity, Stroke and more are linked to heavy snoring.
Quick and Easy to setup in just 3 steps. Get ready for a more peaceful nights sleep.
On Sale for a Limited Time
Click on "ADD TO CART" to Get Yours Today!

How it works:
Silent Night automatically detects you snoring through high precision sensors. Using different frequencies to promote muscle activation the hypoglossal nerve and mandibular muscles are stimulated. Your body recognizes this stimulation as a cue to limit snoring.
Significant results expected after 2-3 weeks, a reduction in frequency of snoring and the ability to breathe with greater ease.
Optimum results achieved after 2 months.

Package Includes:

1 x Smart anti-snoring device
2 x Silicone ear rope buckle
Pulse frequency
Customer Support
30 Day Money Back Guarantee on all orders
If you have any questions contact us at support@devoebay.com
View full details